E-One Clinic Evolution FAMILY
Permanent hair removal at home to share
E-One Clinic Evolution is the perfect solution for permanent hair removal at home - with an even bigger flash area, which allows a faster treatment.
Particularly popular for multi-user use in the family
Depilation in the desired areas even faster with the speed of a professional device
The larger flash area speeds up hair removal, as fewer flashes are required per depilation zone
Fewer flashes per application means that you can get by for longer with the flash cartridge (3,000 flashes).
Application protocol: The application should be repeated every 2 months at the beginning. After 10 to 12 applications, onlyone or two applications per year are required to maintain the effect.
After application You can resume your usual activities. In the case of sun exposure, a sunscreen with very high protection should be used in the 2 weeks following the session.
Results From the first application on, a very significant reduction in hair growth can be seen. After each use hair gradually falls out from the 8th to the 21st day. In the course of the application protocol, the hair grows finer and finer and less and less. An average of 10 to 12 applications over 2 years are required for optimal results.
Contents: 1 E-One Clinic Evolution device incl. optic cartridge, 1 user manual, 1 pen incl. sharpener, 1 optic gel (260 ml), 1 protective glasses, 1 sheet self-adhesive patches, 1 delimitation plate, 1 optic cleaning spray
Appareil professionnel
J'adore l'E-One Clinic Evolution ! La zone de flash plus grande et la puissance d'un appareil professionnel signifient que les séances sont plus rapides et plus efficaces. Je suis très satisfait de mon achat.
Enfin un appareil professionnel
L'E-One Clinic Evolution est facile à utiliser et a donné des résultats incroyables en peu de temps. Je n'aurais jamais pensé pouvoir avoir une dépilation définitive à la maison avec un tel confort et sans douleur.
Véritable épilation définitive
J'ai acheté l'E-One Clinic Evolution pour la dépilation définitive à la maison et je suis très satisfait des résultats. La zone de flash plus grande est un grand plus et permet une épilation plus rapide. Je recommande fortement ce produit !
Très bon appareil
Le manuel d'utilisation clair et les instructions détaillées font que l'E-One Clinic Evolution est très facile à utiliser.
 Write a review
You might also like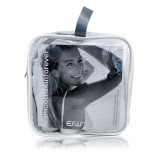 Accessory bag including all accessories...
Regular price
€57.00
-€8.00
Price
€49.00